Angela Cartwright
Edit
Angela Cartwright played Penny Robinson in the Lost in Space TV Series. In 1998, she had a cameo as Reporter #2 in the Lost in Space movie.
Angela Margaret Cartwright (born September 9, 1952) is an English-born American actress primarily known for her roles in movies and television. Cartwright is best known as a child actress for her role as Brigitta von Trapp in the film The Sound of Music, as Danny Williams' stepdaughter, Linda, in the 1950's TV series Make Room For Daddy (a role she played from 1957 to 1964), and as Penny Robinson in the 1960's television series Lost in Space. Her older sister is actress Veronica Cartwright.
Early life and career
Edit
Angela Cartwright was born in Altrincham, Cheshire, England. She made her first film appearance at three years old as Paul Newman's daughter in Somebody Up There Likes Me (1956), and appeared with Sidney Poitier in Something of Value (1957). After moving to the United States, Cartwright appeared for seven seasons in the TV series Make Room For Daddy. While there, she had wonderful on- and off-screen relationships with Danny Thomas and Marjorie Lord. She was reunited with both Thomas and Lord for the 1970 remake, Make Room For Granddaddy. After the series was canceled, Cartwright remained on good terms with Thomas until his death.
She played Penny Robinson opposite TV veterans Guy Williams, June Lockhart and Jonathan Harris in the hit TV series Lost in Space (1965–1968). She made appearances on several TV shows including My Three Sons, Adam-12, and The Love Boat. She also appeared in several films, most notably in the role of Brigitta von Trapp in The Sound of Music (1965). She later appeared in Beyond the Poseidon Adventure (1979), directed by Lost in Space producer Irwin Allen. She was given a small speaking role in the 1998 Lost in Space theatrical remake. She was in the television movies Scout's Honour (1980) and High School U.S.A. (1983). Cartwright has also appeared in the theatre and TV commercials. She was one of the first stars to take advantage of the World Wide Web and has had her own website for many years. She has published one successful book and will soon publish another one co-written with Bill Mumy, her co-star from Lost in Space.
Personal life
Edit
Cartwright married Steve Gullion in 1976 and has two children, Jesse and Rebecca Gullion. She has been a photographer for 30 years. Her fine art is displayed at her studio in Studio City, Los Angeles.
http://www.angela-cartwright.com/
Bill Mumy
Edit
Bill Mumy was born Charles William Mumy Jr, on February 1, 1954, in San Gabriel, California, USA. Along with his most impressive list of television/film credits, Bill is also a very talented and well-known musician, songwriter, recording artist, as well as writer. He plays guitar, bass, keyboards, banjo, mandolin, harmonica, percussion and sings. He has released three solo CDs, 1997's Dying To Be Heard, 1999's In The Current and the 2000 release of his third solo album, Pandora's Box, all released on Renaissance Records. In 1978, Bill and his partner, Robert Haimer officially formed the infamous "quirky-rock duo" Barnes and Barnes. They are known worldwide and have recorded 9 albums on Rhino and CBS Record labels. They also released a feature length home video titled Zabagabee featuring a collaboration of Barnes and Barnes short films. Their infamous "Fish Heads" song placed #57 in Rolling Stones Top 100 Videos of All Time. In 2000, Ogio Records released the 24 song "Yeah: The Essential Barnes & Barnes" CD. Bill was nominated for an Emmy in 1991/1992 for his original song composition for Adventures in Wonderland for Disney for which he wrote 105 songs for 100 episodes. He also scored three episodes of the award-winning PBS series The Universe and I and contributed songs and themes to Santa Barbara, TV Guide Looks At, Hard to Hold, Plainclothes, Archie, Sunshine, Bless The Beasts and Children, The Simpsons, and many other film and television projects. Bill and Miguel Ferrer are currently in a rock and roll band called the Jenerators. Their first CD and cassette titled the Jenerators was released in 1994 on Asil Records. Their second CD produced by Frank Wolf titled Hitting the Silk was released in November 1998 on Wildcat Records. They currently perform in the Los Angeles area when possible. If that is not enough, Bill has also worked on various children albums as well: The Yogi Bear Environmental Album: This Land Is Our Land, a 1993 release on Rhino Records/Hanna Barbera, The Dinosaur Album, also a 1993 release on Rhino Records, and his current album Kiss My Boo Boo which has been released on the Infinite Visions label.
In addition to his many other talents, Bill co-created the popular children television series, Space Cases (1996) with Peter David, which he also co-wrote, produced, composed music for, and guest starred in as well. It was nominated for the 1996 Ace Award for Outstanding Children's Series. The series has run globally in over sixty countries. Peter and Bill have written the screenplay to the feature film Overload which Bill is also starring in. Bill has written as well as co-created many comic books, stories, and television series. He has written for Marvel Comics, Dark Horse Comics, DC Comics and Pocket Books. The stories he co-wrote include well-known titles as Spider-Man, The Hulk, and Clive Barker's Hellraiser. He co-wrote a Star Trek trilogy "Return of the Worthy", and was a creative consultant and writer to the Lost In Space Innovation monthly comic. He has also written for DC Comics' Aquaman, The Spectre and Star Trek. His current writing projects include the feature film Overload and a fantasy novel co-written with Angela Cartwright, Realms Of Majik: The Pocket in Reality. His short stories "The Black '59" and "The Undeadliest Game" appeared in Pocket Books Shock Rock Volumes 1 and 2. Both have been printed globally in many languages. He has written for animation, most recently an episode of the sci fi series, Roswell Conspiracies. He has also written episodics for NBC's Sunshine, USA's Swamp Thing, as well as scripting an unfilmed episode of Babylon 5. He co-created and wrote the Marvel Comics series The Comet Man, The Dreamwalker graphic novel, and Dark Horse Comics' Trypto, the Acid Dog with Miguel Ferrer.
Mumy did not have a cameo appearance in the 1998 Lost in Space film. He wanted to play the older Will Robinson, but the director Stephen Hopkins thought it would be too distracting from the plot to have the original Will play the older Will.
Included in his various multi-talent accomplishments, he is also a prolific voice over actor and can be heard narrating several of the prestigious A&E: Biographies as well as many other documentaries and specials. Some of his commercial work in that arena includes McDonalds, Mattel, Bud Ice, Amtrak, Blockbuster, Ford, KFC, Wal Mart, and Nickelodeon, just to name a few. He is presently doing all the television and radio spots for Farmer's Insurance. His voice over work in animation includes Ren and Stimpy, Batman the Animated Series, Animaniacs, Little Wizard Adventures, and Buzz Lightyear: Star Command.
He is married to Eileen Mumy and they have two children, Seth Mumy and Liliana Mumy.
Bill Mumy Interview
Edit
http://lostinspace.wikia.com/wiki/Bill_Mumy_Interview
Bill Mumy Website
Edit
Bob May (September 4, 1939 – January 18, 2009)  was an American actor best remembered for playing the Robot on the television series Lost in Space which debuted in 1965 and ran until 1968. May appeared in all 83 episodes inside a prop costume built by Bob Stewart; the robot's voice was dubbed by Dick Tufeld who was also the narrator of the series.
Acting and Stunt Career
Edit
Born in New York City, May was the grandson of vaudeville comedian Chic Johnson, half of the Olsen and Johnson comedy team famed for their for their blackout gags and orchestrated mayhem. May's first experience in show business came when he was two-years old, when his grandfather had him appear in the Hellzapoppin comedy review together with his partner Ole Olsen.
May became an actor, stage performer, stuntman, director, and public speaker, appearing in several films together with Jerry Lewis, including The Nutty Professor. He also performed in several television series, including The Time Tunnel (where he played the role of Adolf Hitler in the 1967 episode titled "The Kidnappers"), McHale's Navy and The Red Skelton Show. May also worked as a stuntman, performing in television programs and movies of the 195'0s and 1960's, including Cheyenne, Hawaiian Eye, Palm Springs Weekend, Stagecoach, Surfside 6, The Roaring Twenties and 77 Sunset Strip.
Lost in Space Edit
June Lockhart, who played Maureen Robinson in the series, said that May had insisted he got the job because he fit in the robot suit. Irwin Allen, the creator of the Lost in Space television series, selected May to fill the role of the robot, the sidekick of the Robinson family, after May was sent to see him about the part; Allen promised May, "If you can fit in the suit, you've got the job." Bob donned the suit for the first time in front of Irwin, and made the suit fit. When he exited the suit (which was made of metal and fiberglass) for the first time, he was cut and bleeding, but very happy that he got the part.
The voice of the robot was primarily performed by the show's announcer Dick Tufeld, including the show's catch phrase, "Danger, Will Robinson;" however, May's own voice can be heard when the robot's voice overlaps the other characters' lines and during instances when the robot is singing. May enjoyed playing the part inside the Robot, describing the suit as his "home away from home." It was so difficult to get inside the suit that he would stay inside even during breaks in filming. Because he couldn't respond to external cues, he would learn the lines of all of the actors in each show so that he would know when it was his line. During breaks, he would puff on a cigarette inside the suit with the smoke coming out of the suit amusing other members of the cast. Bob's suit was even fitted inside with an ashtray. Once Irwin showed up on the set in between shooting and saw smoke billowing up out of the suit. He wasn't aware that Bob was still inside and thought that the suit was on fire. When he saw that it was Bob smoking inside the suit, he told him that in future, whenever the script called for the suit to issue smoke, that Bob should be the one to make it happen.
The Robot costume had been created by art director and production designer Robert Kinoshita, who had been the designer of Robby the Robot from the 1956 film Forbidden Planet. Though the regularly used robot required someone to be inside, there were some shots filmed during the third season of the series that used an unoccupied "stunt robot" in certain long shots.
For years, May was a regular at autograph conventions in the Los Angeles area and around the country, sought after by fans of the show. One Los Angeles based convention, Gallifrey One, has named its annual charity auction in May's memory. May was never too busy for his fans, he once remarked: "I will stay at any convention signing autographs until the last fan was finished, or the cleaning crew forces me to leave."
Though the Robot character appeared in the 1998 Lost in Space film with Dick Tufeld reprising his role as the Robot's voice, May did not fill the role of fitting inside the robot in the movie remake.
Personal
Edit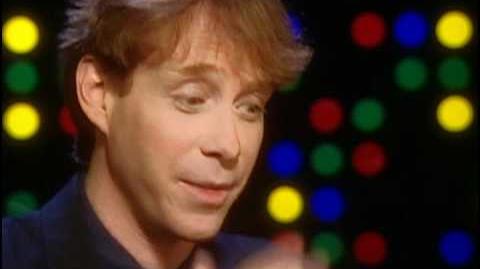 May's home in an upscale mobile home park in the San Fernando Valley was destroyed in the November 2008 California wildfires that hit the Los Angeles area, though he and his wife were able to escape without injury. May died at age 69 on January 18, 2009 at a hospital in Lancaster, California of congestive heart failure. He was survived by his wife, Judith, son, Martin, daughter, Deborah and four grandchildren. He is interred in San Fernando Mission Cemetery.
Dick Tufeld
Edit
Dick Tufeld provided the voice for the Robot in 83 episodes of the original Lost in Space series. He also provided the voice for the Rambler-Crane Series Robot in the 1998 Lost in Space movie. He later reprised the role in Lost in Space Forever and on two episodes of the animated television series, The Simpsons.
Guy Williams
Edit
Guy Williams

From Lost in Space Camera Test
Birth Name
Armando Joseph Catalano
Date of Birth
January 14, 1924
Date of Death
April 30, 1989

Production

Series
Lost in Space
Role(s)
John Robinson
No. of Episodes
84
An exceptionally handsome and charismatic performer with a sexy baritone voice, Guy Williams was born Armand Joseph Catalano (nicknamed Armando by his family) of Italian parentage in New York City on January 14, 1924. The elder child of an insurance broker (he had a younger sister, Valerie), he was raised in the Washington Heights area. Attending Peekskill Military Academy during his formative years, he originally broke into the entertainment field as a male fashion model. Guy subsequently joined New York's Neighborhood Playhouse, which led to such TV assignments as  Studio One in Hollywood (1948), and he debuted in films with a featured role as a pilot in the The Beginning or the End (1947), the story about the first US-deployed atom bomb.
In 1952 he was given a screen test and signed by Universal Pictures. As tall, dark and athletic (6'3", 190 lb.) in Hollywood he nearly always fits the bill, and the highly photogenic Williams began paying his dues in unbilled bits in such standard movies as Back at the Front (1952), All I Desire (1953), The Golden Blade (1953) and Take Me to Town (1953). When he did manage to receive billing, he was rather benignly used: Bonzo Goes to College (1952) (sequel to Ronald Reagan's cult classic Bedtime for Bonzo (1951), The Mississippi Gambler (1953) with Tyrone Power, and The Man from the Alamo (1953) with Glenn Ford.

Guy eventually left Universal and freelanced in films, which would include a minor role as a cop in the cult horror classic I Was a Teenage Werewolf (1957) starring Michael Landon, and also added scattered TV appearances such as Highway Patrol (1955) and The Lone Ranger (1949)) to his resumé. Nothing, however, of major significance happened until Walt Disney came into the picture when Williams was signed, at age 33, to play Don Diego de la Vega, aka Zorro (1957). This thrust Williams immediately into the celebrity limelight. His dashing good looks, eloquence and charm had female hearts fluttering, while the male audiences admired his fencing dexterity and effortless ladies' man appeal. The Disney series was so popular that certain episodes were put together and released into two feature films: The Sign of Zorro (1958) and Zorro, the Avenger (1959).
Further propelled by Disney with his captivating role in Walt Disney's Wonderful World of Color: The Prince and the Pauper: The Pauper King (1962), Guy was handed fully-bearded heroes to play in a couple of fantasy film adventuresj, portraying Damon in the costumer Damon and Pythias (1962) and the title role in Captain Sindbad (1963), an MGM attraction. In 1964 he reunited with Teen Werewolf Michael Landon when he arrived on the Bonanza (1959) set to play cousin Will Cartwright for a few episodes.

The cult sci-fi series Lost in Space (1965) would be Guy's last hurrah in show business. Although overshadowed extensively by the nefariously campy antics of Jonathan Harris' Dr. Smith character, Guy nevertheless provided a necessary strong anchor to the family show, which included June Lockhart as the silver-suited wife and mother of his three intergalactic offspring. Battling aliens and the forces of nature, the show's popularity went stratospheric at first. However, much like Batman (1966), it faded very quickly and ended up having a short life—three seasons. John Robinson, Williams' character on "Lost in Space" (1965), was ranked #38 in TV Guide's list of the "50 Greatest TV Dads of All Time" (20 June 2004 issue). Williams was nicknamed the Comb by Lost in Space co-star Bill Mumy because he would frequently comb his hair between takes on the set.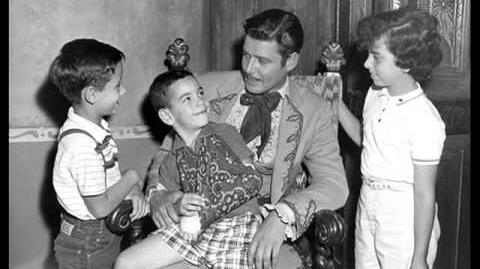 When Williams first visited Argentina in 1973 he was quite taken by the admiration and fascination the Argentines expressed for him and his signature character of "El Zorro." In turn he fell in love with the people and culture of Argentina. Eventually he retired in the 1970's, except for personal appearances, to Recoleta, an upscale neighborhood of Buenos Aires. He died there of a brain aneurysm at the age of 65. His body was found on May 7, 1989, but he had already been dead for a number of days. He was last seen alive on April 30. His ashes were scattered in the Pacific Ocean off the coast of Malibu, California, USA. Long married (since 1948) to Janice Cooper, he was survived by their two children, Steven Catalano and Toni Catalano. In 2001, (August 2), he was posthumously granted a star on the Hollywood Walk of Fame, at 7080 Hollywood Blvd, after petitions from thousands of his fans in front of the Hollywood Chamber of Commerce in 2000.
Guy Williams Tribute Site
Edit
This is a link to a Guy Williams Tribute site. It has loads of pictures of Guy as John Robinson, and also many pictures of Guy as Zorro.
http://www.uncleodiescollectibles.com/html_lib/guy-williams/index.html
Jonathan Harris
Edit
Jonathan Harris played Dr. Zachary Smith in Lost in Space. He was the only member of the original cast to reprise his role in Lost in Space (a Hanna-Barbera animated episode).
Jonathan Harris (born Jonathan Charasuchin, November 6, 1914 – November 3, 2002) was an American character actor. Two of his best-known roles were as the timid accountant Bradford Webster in the TV version of The Third Man and the prissy villain Dr. Zachary Smith of the 1960's science fiction television series Lost in Space. Near the end of his career, he provided the voice of Manny, a praying mantis in the animated feature A Bug's Life.
Early Life
Edit
The second of three children, Harris was born to a poor family in The Bronx, New York City. His parents were Sam and Jennie Charasuchin, Russian Jewish immigrants who eked out a living in Manhattan's garment district. His family resided in a six unit apartment building. To raise money, his mother took in boarders, some of whom were given Jonathan's bed, forcing Harris to sleep on dining room chairs. From the age of 12, he worked as a pharmacy clerk.
While there was little money for luxuries, Jonathan's father took efforts to expand his son's cultural horizons. This included trips to the Yiddish Theatre, where he was encouraged by his father to listen to opera. Young Harris was enthralled. He discarded his Bronx accent and began to cultivate more sophisticated English tones. Although he could seldom afford tickets, Broadway plays were also an interest. Before graduation from James Monroe High School in 1931 (at age 16), he had also become interested in archeology, Latin, romantic poetry and, inevitably, Shakespeare. He did not fit in amongst his peers (who included classmate Estelle Reiner, mother of future actor/director Rob Reiner) with the exception of his girlfriend, Gertrude Bregman, whom he subsequently married. In 1932, he legally changed his name from "Charasuchin" to "Harris," apparently without informing his parents. That same year, Harris' work at the pharmacy led him to attend nearby Fordham University where he majored in pharmacology. He graduated in 1936 and worked in several drugstores.
Acting was Harris's first love. At 24, he prepared a fake resumé and tried out for a repertory company at the Millpond Playhouse in Long Island, New York and appeared in several of this troupe's plays prior to landing a spot in The Red Company. In 1942 Jonathan won the leading role of a Polish officer in the Broadway play "The Heart of a Cit"y. Adopting a Polish accent, he advised the producers that his parents were originally from Poland. In 1946 he starred in "A Flag Is Born" opposite Quentin Reynolds and Marlon Brando.
Television
Edit
Harris became a popular character actor for 30 years on television, making his first guest appearance on an episode of The Chevrolet Tele-Theatre in 1949. The part led to other roles in such shows as The Web, Lights Out, Goodyear Television Playhouse, Sanford and Son, 2 episodes of Hallmark Hall of Fame, Armstrong Circle Theatre, 3 episodes of Studio One, Telephone Time, Schlitz Playhouse of Stars, Climax!, The Outlaws, The Twilight Zone, Bonanza, The Rogues, The Adventures of Ozzie and Harriet, and 2 episodes of Bewitched, among many others.
Harris returned to television, where he landed a co-starring role opposite Michael Rennie in The Third Man from 1959-65. He played Bradford Webster, an eccentric, cowardly assistant. Half the episodes were shot in London, England; the rest were filmed in Hollywood. Harris' teenaged son would visit the set at this time, and Harris did whatever he could to bridge the gap between father and son and tried to make up for lost time.
From 1963-65, Harris co-starred in the sitcom The Bill Dana Show. He played Mr. Phillips, the pompous manager of a posh hotel who is constantly at odds with his bumbling Bolivian bellhop, José Jiménez (Bill Dana). This formula presaged the popular John Cleese hotel comedy, Fawlty Towers.
Several of Harris' one-liners from the show (such as "Oh, the pain!"), along with many character mannerisms, became part of the Dr. Zachary Smith character on Lost in Space. In an apparent homage to his earlier role, Harris played a similarly pompous diplomat on Get Smart in 1970. His female assistant is named Zachary. He also guest-starred on The Ghost and Mrs. Muir. His last series guest-starring role was on an episode of Fantasy Island.
As Doctor Zachary Smith in Lost in Space
Edit
Harris beat out two other actors for the role of conniving, milksop, cowardly agent Dr. Zachary Smith on Lost In Space for CBS. The character did not appear in the original 1965 pilot episode (nor did the Robot). The series was already in production when he joined the cast and the starring/co-starring billings had already been contractually assigned, so Harris received a Special Guest Star credit on every episode.
A strong bond developed between Harris, Mumy, and some of the rest of the cast during the show's three-year tenure. From its debut it was successful, until midway through the first season it had stiff competition from another newcomer, Batman, which dominated TV ratings. The show continued the tradition of such successful 1960's sci-fi series such as Voyage to the Bottom of the Sea. Midway through the first season, due to Harris' popularity on the show, he began to rewrite the dialogue. Allen approved his changes and gave him carte blanche to become a writer. Harris stole the show, mainly via a list of alliterative insults that soon worked their way into popular speech. While the series was still solidly placed in the middle of the ratings pack, the writers appeared to run out of fresh ideas, and the show was unexpectedly canceled in 1968, after 83 episodes.
One of Harris's co-stars, Mark Goddard, said of the show's eventual shift toward Harris's character, "I guess it was because they felt that the people wanted to see more of the Robot and Jonathan. Originally, when it was more science fiction, Irwin can really do those things so beautifully. So he really took those away from himself when he wanted to deal with the Robot and Jonathan playing games, cooking soufflés, or whatever else." After a reunion of the entire surviving cast in December 1990, Goddard continued to stay in touch with Harris until his friend's death, late in 2002.
Bill Mumy said about Harris' guest role that in his first episode, "It was actually implied that this villainous character that sabotaged the mission and ended up with us was going to be killed off after a while." Mumy added, "Jonathan played him as written, which was this really dark, straight-ahead villain." Mumy also said of Harris's work on Space, "And we'd start working on a scene together, and he'd have a line, and then in the script I'd have my reply, and he'd say, 'No, no, no, dear boy. No, no, no. Before you say that, the Robot will say this, this, this, this, this, this, and this, and then, you'll deliver your line.'" Bill also said of Harris' portrayal, "He truly, truly single-handedly created the character of Dr. Zachary Smith that we know—this man [the[ we love-to-hate, coward who would cower behind the little boy... 'Oh, the pain! Save me, William!' That's all him!" About the show's cancellation, Mumy said, "I don't know what happened. All I know is that we were all told we were coming back. Then, you know we got a call that we weren't."
The death of Harris' father in 1977 drew Harris and Mumy closer. The two kept in touch for almost 35 years until Harris' death. On June 14, 1995, Mumy and the rest of the crew paid tribute to series' creator Irwin Allen, who died late in 1991. In 1996, Mumy was reunited with Harris alongside Leonard Nimoy (of Star Trek fame) at a Disney World convention. It was also reported in 1997 that Mumy, Harris and the rest of the surviving cast appeared on the inside cover of TV Guide to promote the new movie, while the Sci-Fi Channel would feature a Lost in Space marathon. In the actual 1965 television premiere of Lost in Space, the blast-off of the Jupiter 2 is set in the future on October 16, 1997. The Sci-Fi Channel began the Lost in Space marathon on October 16, 1997.
Typecasting
Edit
Although he is considered something of a cult icon for this role, Harris became typecast as the fey villain. Allen cast him as a villainous Pied Piper in an episode of Land of the Giants. Approached by Irwin Allen a second time to star in a children's series, Jumbalina and the Teeners, Harris turned it down. In 1970 Harris played the role of another not-so-likeable villain when he guest starred as the Bulmanian Ambassador in the Get Smart episode, "How Green Was My Valet." Harris was also a co-star (alongside Charles Nelson Reilly) in the series Uncle Croc's Block, in which Harris and Reilly portrayed malcontents producing a children's TV show (Harris played the director and Reilly the titular host, Uncle Croc). A more favorable guest role of Harris was his portrayal of Charles Dickens in a 1963 episode of Bonanza. He also appeared in two 1961 episodes of The Twilight Zone, one of which was "The Silence," in a very interesting and remarkable character reversal, as a hero defending a young man challenged to be silent for a whole year at a prestigious gentlemen's club. In 1971, Night Gallery cast Harris in the installment "Since Aunt Ada Came To Stay" as Professor Nicholas Porteus, whose knowledgeability about evil witches (and how to destroy them) led to his death but helped to resolve the installment's conflict.
Voice-over Actor and Guest Starring Roles
Edit
Harris spent most of the remainder of his career as a voice actor heard in television commercials as well as cartoons such as Channel Umptee-3, The Banana Splits, My Favorite Martians, Rainbow Brite, Darkwing Duck, Happily Ever After, Problem Child, Visionaries: Knights of the Magical Light (giving a master class in sycophancy as lackey to the main villain), Freakazoid! (reprising the Smith character and dialogue under the name "Professor Jones,") A Bug's Life, Buzz Lightyear of Star Command and Toy Story 2. He also had several cameo and guest appearances, including Zorro, Bewitched, Fantasy Island, Sanford and Son and Ark II. Harris also provided the voiceover of the Cylon character Lucifer on the original Battlestar Galactica series. He also did voice-over work in an episode of the animated Superman series. Harris taught drama and gave voice lessons to Chuck Norris and was credited for this by Norris in Good Guys Wear Black.
He starred in the Saturday morning children's series Space Academy in the mid-seventies, and was a well-known TV spokesman for the International House of Pancakes. In 2009 his final performance was released. He had done a recording session in 2001 for a short animated film titled The Bolt Who Screwed Christmas in which he plays the narrator and the Bolt. He died about a year after his recording session, long before the independent film was completed. The film also features voice-over work by Bill Mumy, Angela Cartwright and Marta Kristen, their parts added to the film after his death as a small tribute with the film dedicated in his memory.
Later Career
Edit
In 1990 Harris reunited with the cast of Lost In Space to celebrate the 25th anniversary of the show's debut, an event attended by more than 30,000 fans. In 1995, Harris (alongside June Lockhart, Mark Goddard, Marta Kristen, Bill Mumy and Angela Cartwright) also appeared in The Fantasy Worlds of Irwin Allen, a television tribute to Irwin Allen, who had died four years prior.
Harris reprised his role as Dr. Smith in the one-hour TV special Lost in Space Forever in 1998. However, unlike his costars in the original series (June Lockhart, Mark Goddard, Marta Kristen and Angela Cartwright) he refused to make a cameo appearance in the motion picture version of Lost in Space earlier that year. He announced, "I've never played a bit part in my life and I'm not going to start now!" Bill Mumy also did not appear in the feature film. Gary Oldman played the part of Dr. Smith in the film, but as a more genuinely menacing and less likeable character than Harris' on TV. An episode of The Simpsons has a cameo of Dr. Smith along with the Robot; multiple episodes of Freakazoid had the character of a cowardly Professor Jones; Professor Jones utters his catchphrase "Oh, the pain!" In case there was any question about the parody, numerous characters would ask him, "Weren't you on a TV show with a robot?"
During the months leading up to the film's release, the Sci-Fi Channel aired Lost In Space marathons in many markets in which each of the actors were interviewed. On April 9, 1998, Harris appeared as a guest on a talk show where he fondly reminisced about his Lost In Space days, admitting he would stay up nights thinking of new insults for the Robot ("bellicose bumpkin," "bubble-headed booby") because he enjoyed the interaction so much. Host Conan O'Brien brought one of his characters, Pimp-Bot 5000 (a robot pimp) onto the set and Harris went into character as Dr. Smith and proceeded to insult Pimp-Bot. Shying away from his usual dry, sarcastic, and often self-deprecating style, Conan confessed to Harris that he brought him on the show just to have him insult Pimp-Bot, and that the moment made his day.
Harris was to portray the man who hired, then betrayed, Dr. Smith in the film. In an interview for TV Guide prior to the release, it was mentioned that Harris bluntly stated, "I will have you know I have never done a walk-on or bit part in my life! And I do not intend to start." He announced that if he could not play his own role in that film, he wanted nothing to do with it.
The year 2009 saw the release of Harris's last work. Prior to his death, Harris had recorded voice work for the animated theatrical short The Bolt Who Screwed Christmas. Wanting to pay tribute to Harris, writer / director John Wardlaw wrote an additional scene for the film and asked Lost In Space co-stars Bill Mumy, Marta Kristen and Angela Cartwright to contribute their voices to the film. The three actors reunited in the recording studio on June 14, 2006. "This was the first time they had all been together in something unrelated to Lost in Space and it was a blast. They listened to what Harris had recorded and there were laughs and some tears.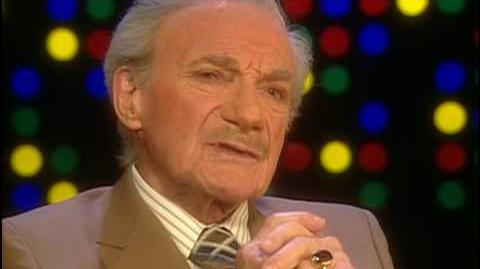 Throughout his long life Jonathan had a number of hobbies: gourmet cooking, watching movies, reading, traveling, painting, magic, playing piano (he played a piano teacher in a 1968 episode of
Bewitched
), listening to opera, spending time with children, gardening and needlepoint. He also did some dancing in his spare time. According to the A&E Biography, on one episode of
Lost In Space
, Jonathan's character, Dr. Smith, did a groovy 1960's dance with Penny and Will Robinson (Angela Cartwright and Bill Mumy).
Personal Life and Death
Edit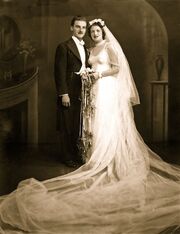 Jonathan was married to his childhood sweetheart Gertrude Bregman (who died of natural causes on August 28, 2007 at age 93), from 1938 until his death in 2002. They had a son, Richard (born 1942), as well as a daughter-in-law and two step-granddaughters. Harris' father, Sam Charasuchin, was struck by a car while crossing the street in New York City in 1977. He was 93 years old at the time of his death. In late 2002, Harris and the rest of the surviving cast of the TV series were preparing for an NBC two-hour movie entitled
Lost In Space: The Journey Home
. However, two months before the movie was set to film, he was taken to the hospital with what he thought was a back problem, but on November 9, 2002, just one day before he was scheduled to return home, Jonathan Harris died of a blood clot to the heart. He is interred at Westwood Village Memorial Park Cemetery. His eulogists included long-time friend and director Arthur Hiller, close friend and former Twentieth Century Fox television executive and producer Kevin Burns and fellow
Lost in Space
cast mate and good friend Bill Mumy.
Jonathan Harris Interview:
Edit
http://lostinspace.wikia.com/wiki/Jonathan_Harris_Interview#Interview:_Jonathan_Harris
As Jonathan Harris' star power rose throughout season one of
Lost In Space
, Harris had his own recollections of the journey with his cast mates that he shared with William E. Anchors, Jr. in a 1986 interview in the aforementioned book (p.350). "You want the truth? [laughter] They hated it.
And me.
And did I care?
No.
I will tell you.
I am straight forward about it.
I didn't care who keeps it on the air as long as it stays on the air and they send money every week.
If it happens to be me, great.
If it happens to be June Lockhart, great.
Who cares, as long as we stay on the air?"
He added, "So, as it turned out, it was me that was doing it and it was me, no matter what else you have heard.
I was delighted that it was me because I got all the money.
When June Lockhart did a
TV Guide
profile she said, 'Actually, if it hadn't been for Jonathan Harris we would have been off the air in thirteen weeks.'
She was absolutely right." If he does say so himself.
Harris certainly never mixed words or hid his feelings.
Other Links and Tributes
Edit
This is a great link to a memorial of Jonathan Harris. It is from Bill Mumy's personal fan site. It has loads of pictures of Harris from childhood into adulthood:
This is a link to a great blog that has some great pictures and videos. The writer also quotes Harris from previous interviews: 
This is a link to Bill Mumy's Eulogy for Jonathan Harris:
June Lockhart
Edit
June Lockhart played Maureen Robinson on the Lost in Space TV series. In 1998 she had a cameo as Principal Cartwright in the Lost in Space movie.
Born in New York City on June 25, 1925, the daughter of actors Gene Lockhart and Kathleen Lockhart, June Lockhart made her professional debut at age eight in a Metropolitan Opera production of "Peter Ibbetson" playing Mimsey in the dream sequence.
In the mid-1930's the Lockharts relocated to California where father Gene enjoyed a long career as one of the screen's great character actors. June made her screen debut in MGM's version of A Christmas Carol (1938), playing—appropriately enough—the daughter of stars Gene Lockhart and Kathleen Lockhart.
June appeared in a dozen or more movies before 1947 when she made her Broadway bow playing the ingénue in the comedy "For Love or Money" with John Loder. She got a standing ovation on opening night; one critic compared her debut to the first big hits of Helen Hayes and Margaret Sullivan. The overnight toast of Broadway, she went on to win a Tony Award, the Donaldson Award, the Theatre World Award and the Associated Press citation for Woman of the Year for Drama for her work in that play. On television, she has co-starred in popular series like Lassie (1954) and Lost in Space (1965). Married and divorced, she is the mother of Anne Lockhart and Lizabeth Lockhart.
"Guy Williams and I did have scenes of intimacy in the beginning. Great affection was shown, hand-holding and kisses—in the pilot, it's all there. But the word came down from CBS that we were not to touch each other because, they said, it embarrassed children watching at home to see the parents kissing."—
June Lockhart recalling the cast's efforts to infuse the show with a family warmth she experienced growing up
, (
Starlog Magazine #198).
June Lockhart Interview
Edit
http://lostinspace.wikia.com/wiki/Cast_Interview_List#June_Lockhart
Hollywood Walk of Fame
Edit
June has two stars, one star for TV, and another for the movies. The TV star is located on the south side of the 6300 block of Hollywood Boulevard. Her Film star is located on the north side of the 6300 block of Hollywood Boulevard.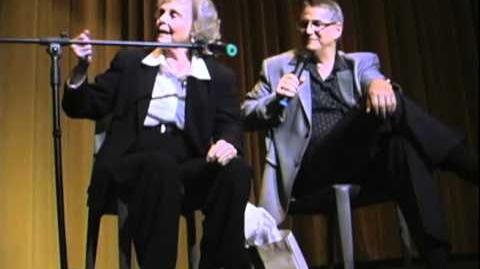 Mark Goddard
Edit
Mark Goddard played Major Don West in the Lost in Space TV Series. In 1998 he had a cameo as the General in the Lost in Space movie.
Mark Goddard (born July 24, 1936) is an American actor who has starred in a number of television programs. He portrayed Major Don West, the adversary of Dr. Zachary Smith (played by Jonathan Harris) in the cult 1960's CBS television series, Lost in Space, and young Detective Sgt. Chris Ballard on The Detectives starring Robert Taylor.
Early life
Edit
Goddard was born Charles Goddard in Lowell, Massachusetts. He is the youngest of five children, and grew up in Scituate, Massachusetts. He led both his high school baseball and basketball teams to the state championship finals. Goddard dreamed of becoming a basketball player but eventually turned to acting. He studied at the American Academy of Dramatic Arts in New York City. After two years, he moved to Los Angeles, California.
Early Acting Career
Edit
In 1959, after just three weeks in Hollywood, he landed a role in the CBS Four Star Television series Johnny Ringo, having played the character of Cully, the deputy, to Don Durant's character of Ringo, and Karen Sharpe's Laura Thomas, the girlfriend of Ringo. At this time, he changed his name to Mark Goddard at the suggestion of his friend and mentor, Chuck Connors of ABC's The Rifleman. Goddard appeared as Norman Tabor in the 1960 episode "Surprise Party" of the CBS anthology series The DuPont Show with June Allyson. He was cast as Sheldon Hollingsworth in the 1960 episode "To See the Elephant" of the ABC western series The Rebel, starring Nick Adams. He played Tod Rowland in the 1960 episode "The Mormons" on CBS's Dick Powell's Zane Grey Theater. Goddard was also signed for a role lasting three years and sixty-four episodes in The Detectives, another series produced by Four Star Television. The Detectives was a hit series which ran on ABC and NBC from 1958 to 1961, and starred film actor Robert Taylor, along with actors Tige Andrews, Russell Thorson, and Goddard as Chris Ballard.
In 1963, Goddard appeared as Roy Mooney on CBS's Perry Mason, in the episode "The Case of the Potted Planter." In 1965 he played Lester Crawford in "The Case of the Frustrated Folk Singer." He also appeared with Keir Dullea as sparring college roommates in an episode of ABC's drama series Channing, costarring Jason Evers and Henry Jones. He was featured in the 1965 film A Rage to Live, starring Suzanne Pleshette.
From 1964-1965, Goddard starred in another one-season CBS series, Many Happy Returns, in which he portrayed Bob Randall, the young husband of Joan Randall, played by Elinor Donahue, formerly of Father Knows Best and The Andy Griffith Show. The program starred John McGiver as the head of the complaint department of a fictitious Los Angeles department store. Elena Verdugo, later on ABC's Marcus Welby, M.D., and Mickey Manners were also in the cast.
Lost in Space
Edit
Goddard's next role was for the three seasons of Lost in Space (1965–1968), in which he played Major Don West. There were two pilots shot for the series. The original 1965 pilot was much different from the pilot that aired and the episodes that followed in the actual series. There was a blossoming romance between Don West and Judy, the eldest daughter of the Robinson family, but it did not extend further than the first season. By the middle of the second season, the show took on a more comic tone.
The plot lines increasingly centered around the mishaps of Dr. Zachary Smith (Jonathan Harris) and his friends who could always be counted upon to save him and all of the inhabitants of the Jupiter 2—the Robot (Bob May) and Will Robinson (Bill Mumy), the youngest of the three Robinson children.
Goddard's on- and off-screen chemistry with Jonathan Harris had been very remarkable. After Goddard's best-known role on Space, Goddard remained very close to Harris. On June 14, 1995, he and the rest of his cast paid tribute to producer Irwin Allen who had died late in 1991. On October 16, 1997 (the same day the show's fictional Jupiter 2 spaceship was supposed to take off in the original episode), Goddard and the rest of the surviving Lost in Space cast also appeared on the inside cover of TV Guide, to promote the new Lost in Space movie while at the same time the Sci-Fi Channel had planned to do a Lost in Space marathon, according to the network. Goddard was grief-stricken when, on November 3, 2002, his mentor and friend of more than thirty-five years, Jonathan Harris, died. He, along with Harris and the rest of his cast were planning for the movie, Lost in Space: The Journey Home, which never came to fruition with NBC.
Later Acting Career
Edit
Goddard guest starred on three ABC series The Fugitive, The Mod Squad and The Fall Guy. At one point he moonlighted as a Hollywood agent. In 1976, he starred as politician Edward Fleming in the movie Blue Sunshine. In 1970, Goddard co-starred opposite Kent McCord and Martin Milner, in a very poignant episode of the NBC police drama Adam-12 in which he plays a friend of Pete Malloy (Milner) who is killed in the line of duty. The episode was entitled "Elegy for a Pig" (so titled and announced by Jack Webb himself). Goddard played a support role in a first season episode of NBC's Quincy M.E. as an attorney. In 1978, Goddard starred with Liza Minnelli in "The Act" (a Broadway musical). Goddard starred as Ted Clayton on One Life to Live and Lt. Paul Reed on The Doctors. Later, Goddard starred as Derek Barrington on General Hospital. Goddard made a cameo appearance in the reboot film Lost in Space (1998) as the general in charge of the Jupiter Mission, and superior officer to his former character, Major Don West.
Later Life
Edit
Goddard finished college thirty years after beginning his studies and thereafter received his Master's degree in education. He is currently a special education teacher at the F. L. Chamberlain School in Middleboro, Massachusetts. In 2009, he released an autobiographical memoir, To Space and Back.
Mark Goddard Interview
Edit
http://lostinspace.wikia.com/wiki/Mark_Goddard_Interview#Interview:_Mark_Goddard
Goddard recalled a great relationship with Guy Williams but they had their moments too. Goddard offered a pretty candid, humorous and fair assessment of how these things can go. "It varied when it started out. I go along with Guy and June. June and Guy got along, then Guy and June didn't get along with Jonathan. The, Marta and I got along then Marta and I didn't get along and I didn't get along with Guy when he took my lines. Then I got along with Jonathan. I always sided up with someone. The two kids' mothers, they never got along. They were always fighting for better scripts and Marta was always fighting for better scripts. She and I didn't get along. I treated her like a kind of a sister. Every day it was something else.
Website
Marta Kristen
Edit
Marta Kristen played Judy Robinson in the Lost in Space TV Series. In 1998, she had a cameo as Reporter #1 in the Lost in Space movie. Marta Kristen (born February 26, 1945) is an American actress.
The naturally blonde-haired Kristen is best known for her role as Judy Robinson, the daughter of Professor John and Maureen Robinson, in the television series Lost in Space (1965–1968). Marta played the part of the space family's eldest child, a mature "20-something woman" near the age group of the space pilot, played by Mark Goddard. Her mature role allowed adult form-fitting fashions and hairstyles, as shown in publicity photos of the TV series.
Biography
Edit
Kristen was born Birgit Annalisa Rusanen in Oslo, Norway, to a Finnish mother and a German soldier father who was killed during World War II. She was adopted in 1949 by an American couple from Detroit, Michigan, Prof. & Mrs. Harold Soderquist, and was renamed Marta. She moved to Los Angeles, California, with her family in 1959 and is a graduate of Santa Monica High School.
She appeared in a 1961 episode ("Bang! You're Dead") of Alfred Hitchcock Presents alongside Billy Mumy who would later co-star with Kristen in Lost in Space. Her first success in acting was the role of Lorelei in the 1965 movie Beach Blanket Bingo. She would later star in Lost in Space and make numerous guest appearances on television shows. When her daughter was born in 1969 she began making television commercials and eventually appeared in more than 40. In recent years she has starred in the 1998 television movie Lost in Space Forever and had a cameo role in the 1998 movie Lost in Space. She also appeared in the A&E Biography Jonathan Harris, Never Fear Smith Is Here in 2002. Kristen also provided voice work for the 2009 animated theatrical short The Bolt Who Screwed Christmas which also included voice work from her Lost in Space co-stars Jonathan Harris, Bill Mumy and Angela Cartwright.
Personal
Edit
Kristen's personal life has revolved around discovering her roots, caring for her daughter, and now caring for her granddaughter. On a trip to Finland in 1969, she located her birth mother, Helmi Rusanen, and an older sister whom she had never met; and in 1997 she discovered a brother residing in Australia. She met her second husband, Kevin Kane, in 1974. She and her husband live in Santa Monica, California, with a pair of rescue dogs.
Marta Kristen Interview
Edit
http://lostinspace.wikia.com/wiki/Marta_Kristen_Interview#A_Conversation_With_Marta_Kristen