Click on an image below to find pages related to the different versions of Lost in Space
and Lost in Space in different media.
Check out our episode or star of the week, or browse our general interest pages
by clicking on an image below.
Read about your favourite Lost in Space character by clicking on a picture below.
Latest News
Angela Cartwright, Bill Mumy, Marta Kristen, and Mark Goddard will be at Galacticon 4 in Seattle, Washington, July 31-August 2, 2015.

Angela Cartwright will be at the Mid-Atlantic Nostalgia Convention in Hunt Valley, Maryland, September 17-19, 2015.
User Blogs
Lost In Space Reboot (2018)  X  Lost In Space Original Series

                              Dr. Smit…

Read more >

I wrote this article to find some answers to doubts of one of the collaborators of this Wikia, Twil…

Read more >

Merry Christmas and a Happy New Year from the Lost in Space Wiki to all our members and visitors.

Read more >
Featured Article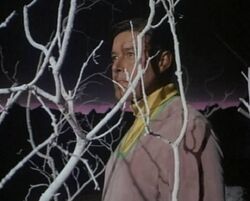 Barney Slater's "The Anti-matter Man" was one of the most popular episodes of Lost in Space.
Poll of the Month
The most iconic line ever is
Live Newsfeed
Refresh · News|Read more...
Loading RSS data...