Click on an image below to find pages related to the different versions of Lost in Space
and Lost in Space in different media.
Check out our episode or star of the week, or browse our general interest pages
by clicking on an image below.
Read about your favourite Lost in Space character by clicking on a picture below.
Latest News
Angela Cartwright, Bill Mumy, Marta Kristen, and Mark Goddard will be at Galacticon 4 in Seattle, Washington, July 31-August 2, 2015.

Angela Cartwright will be at the Mid-Atlantic Nostalgia Convention in Hunt Valley, Maryland, September 17-19, 2015.
User Blogs
Here's a link to a very nice article on June Lockhart's career, marking her 90th birthday--June 25.…

Read more >
Featured Article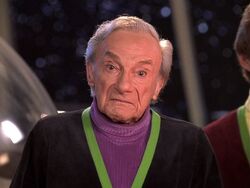 Doctor Smith is the villain everyone loves to hate! Did you know he wasn't in the original Lost in Space pilot?
Poll of the Month
Who was your favourite female cast member?