WELCOME TO THE LOST IN SPACE WIKI!
Use the drop-down menus at the top of this box to find our most popular articles, or locate items using the search bar at the top of the page.
A full listing of our articles can be found here.
Lost in Space Wiki now has a COMMENT SECTION under all articles. Please sign in before you edit or add pages. PLEASE FEEL FREE TO ADD YOUR OWN COMMENTS!
Latest News
Marta Kristen will be at Wonderfest in Louisville, Kentucky, May 30-31, 2015.

Angela Cartwright, Bill Mumy, Marta Kristen, and Mark Goddard will be at Galacticon 4 in Seattle, Washington, July 31-August 2, 2015.

Angela Cartwright will be at the Mid-Atlantic Nostalgia Convention in Hunt Valley, Maryland, September 17-19, 2015.
Poll of the Month
Which was your favourite season of Lost in Space?
User Blogs
Penny Robinson had more episodes that revolved around her than almost any other character in Lost in Space except Dr. Smith. Even her brother Will, although much more prominent throughout the series, …

Read more >

​Of all the regular cast members of Lost in Space, none shows more development of character (in a literary, if not a psychological, sense) over the show's three year run than Dr. Zachary Smith. What i…

Read more >

Hi LIS fans

I created a 24min video summary of all the season 3 coming attractions/cliffhanger that were at the end of each episode.

I added the countdown intro and ended the video with "sparkling cred…

Read more >
Featured Article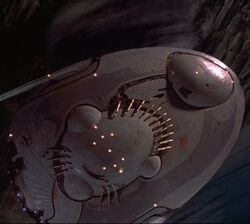 The Jupiter 2 was totally redesigned for the 1998 Lost in Space feature film.
</center>

</center>