Click on an image below to find pages related to the different versions of Lost in Space
and Lost in Space in different media.
Check out our episode or star of the week, or browse our general interest pages
by clicking on an image below.
Read about your favourite Lost in Space character by clicking on a picture below.
Latest News
Marta will be at Northeast Comic Con in Wilmington, MA with Mark Goddard, December 5-6 2015
User Blogs
Hi Fellow LIS fans

I have uploaded the intros from seasons 1 to 3 from the Bluray release and stitch…

Read more >
Featured Article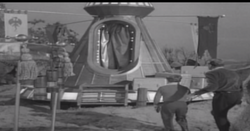 Season One Ships were usually quite small.
Poll of the Month
What would you give the Robinsons for the holidays?