Click on an image below to find pages related to the different versions of Lost in Space
and Lost in Space in different media.
Check out our episode or star of the week, or browse our general interest pages
by clicking on an image below.
Read about your favourite Lost in Space character by clicking on a picture below.
Latest News
Angela Cartwright will be at the Mid-Atlantic Nostalgia Convention in Hunt Valley, Maryland, September 17-19, 2015.
User Blogs
Check out this article for some reflections on Lost in Space 50 years later.

Read more >
Featured Article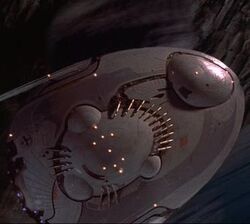 The Jupiter 2 was totally redesigned for the 1998 Lost in Space feature film.
Poll of the Month
In July, most of you chose to ride the chariot to work. Our question for August: New Verda or Old Verda?