Barney Slater contributed roughly a third of the scripts to the first two seasons of Lost in Space. One season one story, "The Sky Is Falling", was co-written with Herman Groves, and the season three episode "The Anti-Matter Man" with Robert Hamner.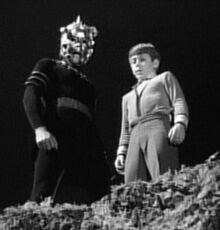 Slater's first season stories range from dark, even menacing "Follow the Leader" to the almost whimsical premises of episodes like "Wish upon a Star" and "All that Glitters." "Follow the Leader" is a highly regarded, tense and dramatic episode that served as a John Robinson-centred vehicle. Similarly, the two part episode "The Keeper" also gave John a considerable amount of air-time.
Both "The Keeper" and "Follow the Leader" were very much in the tone of the series' original premise of being an adult-oriented action-adventure series in outer space. Neither episode is far-fetched, and both contain tense scenes of menace and dramatic conflict.
"War of the Robots" and "The Space Trader" are also superior episodes, but they focus more on Will and Dr. Smith, respectively. "War" features a sinister robotoid out to enslave the Robinsons. Unfortunately, in a somewhat deus-ex-machina ending, the Robot, though previously bested by the robotoid throughout the episode, destroys him quite easily and saves the Robinsons. "The Space Trader" is one of the earlier episodes centred on Dr. Smith (although not the first). Although not a bad episode, the ease with which the Robinsons finally defeat there nemesis does strain one's credibility somewhat.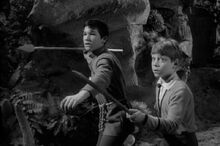 "The Challenge" was among the first episodes to feature Will Robinson quite prominently while not excluding the series' adult leads. It is a story that must have been very appealing to young boys at the time with its themes of risks and proving oneself worthy. The ending, with John taking over to win the fight, will be reused in season two's "The Deadly Games of Gamma 6." Rather than being a cop-out, as some of Slater's endings were, I think it was a deliberate attempt to balance featuring a story focusing on one character with the need to present the show's male lead adequately.
Given the superior endings of "The Sky Is Falling" and "Follow the Leader," it is a little difficult to see why so many of Slater's concluding scenes fall flat.
Ad blocker interference detected!
Wikia is a free-to-use site that makes money from advertising. We have a modified experience for viewers using ad blockers

Wikia is not accessible if you've made further modifications. Remove the custom ad blocker rule(s) and the page will load as expected.