Robert Hamner is credited with five season three scripts for Lost in Space, and is credited as co-writer (together with Barney Slater) for one more, "The Anti-Matter Man," surely one of the best episodes in the series.

"Kidnapped in Space" features a lot of banter between the Robot and Dr. Smith; in fact, it could easily fit into the "buddy-adventure" category of episodes if only Will were more involved. Despite this, there are a number of tense and dramatic moments in the episode, particularly where John Robinson is killed.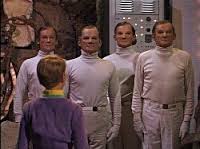 "Space Destructors" is quite similar in its approach to the characters; again, though, Will is not Dr. Smith's (willing or unwilling) foil, but rather his (accidental) victim. After a rather campy beginning, the dramatic tension builds up in the second half of the episode with some terrific action scenes for Guy Williams. Bill Mumy portrays a Dr. Smith Mini-me clone, and the episode ends with a quite touching, if incredible, scene showing that despite almost being killed by Smith, Will still loves him.

"Deadliest of the Species" is an episode that offers moments of genuine violence in the series, even if off-camera, with the murder of three law enforcement officers. Rather than offering a vehicle for Guy Williams or Dr. Smith, though, the Robot features prominently in this episode as a character in his own right.
"Two Weeks in Space" brings back the character of Mr. Zumdish (created by Bob Duncan and Wanda Duncan in season two's "The Android Machine") in a Dr. Smith-Will-Robot ludicrous adventure where the Jupiter 2 is turned into a luxury hotel. Although there are moments of menace in the episode, it is really just played for laughs.

"Fugitives in Space" is among the closest approaches the series makes to being gritty and real, but even so, it is punctuated by comedy throughout. As an aside, another user of this site has pointed out that Creech's make-up looks like it came from Planet of the Apes. Well, it did. The movie was filming on the Paramount lot at the same time as Lost in Space.
It is hard to place Robert Hamner's stories into a clear-cut category or to sum them up neatly. His story lines are uniformly good and several had great potential. His collaboration on "The Anti-Matter Man" and his solo effort on "Fugitives in Space" show that he was a talented writer. The only criticism that can really be made is that otherwise dramatic stories are marred (in the eyes of some fans) by scenes played for comedic effect.
Ad blocker interference detected!
Wikia is a free-to-use site that makes money from advertising. We have a modified experience for viewers using ad blockers

Wikia is not accessible if you've made further modifications. Remove the custom ad blocker rule(s) and the page will load as expected.